SS IPTV (Simple Smart IPTV) is one of the most popular IPTV services that is integrated with more than hundreds of IPTV operators. It is a free multi-purpose app which is compatible with various platforms including, android and all smart TV devices. With this, you can play videos from your own playlist and also access media contents from all its associated operators. To play your own Playlist, you have to get the activation code in the app settings and then enter it in the Connection code field on its official web page.
Features of Simple Smart IPTV
It is a cost-free IPTV service, and you can access all its contents entirely for free.
You can easily add and change the playlist position.
SS IPTV supports the universal playlist formats such as M3U, XSPF, ASX and PLS.
Simple Smart IPTV is built-in with Parental controls to stay away from restricted contents.
You can set a time period for automatic channel switching.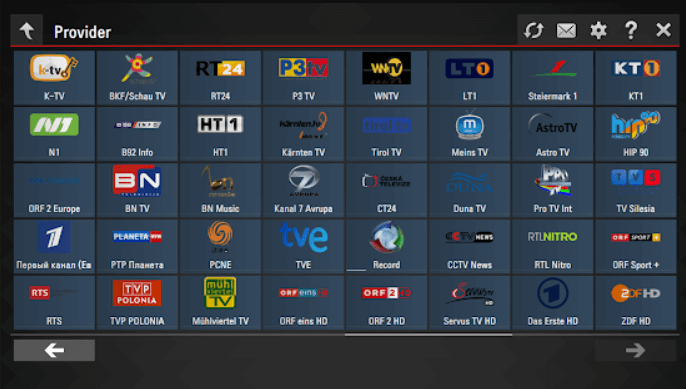 Related: Helix IPTV on Android & Fire TV
SS IPTV Supported Devices
Android Device
SS IPTV Android Apk is available as an official app for android, and you can download it directly from the Google Play Store. This app is accessible on android 5 and higher versions. It is lastly updated in the year 2017.
LG Smart TV
SS IPTV can be installed from the official LG Store. It is a well-supported app for LG smart TV (webOS) so that you can watch all its contents from your living room.
Samsung Smart TV
Simple Smart IPTV is compatible with Samsung Smart TV, but it is not available officially on the Samsung App Store. The only way to use is to download SS IPTV apk and side-load through USB drive.
How to Upload Playlist to Simple Smart IPTV
There are two methods to upload the Playlist on Simple Smart IPTV
Through Link – External Playlist.
Through non-permanent access code – internal playlist
Upload Playlist by Link
#!: Open the SS IPTV and go to Settings.
#2: Select the Content section.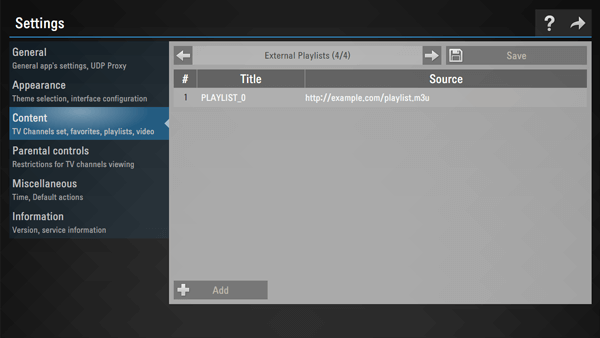 #3: Select External Playlist subscription.
#4: Then select Add button, enter your playlist title and link in the appropriate field.
#5: After that, select the Save option. Now your playlist will be stored in a separate folder on the app home screen.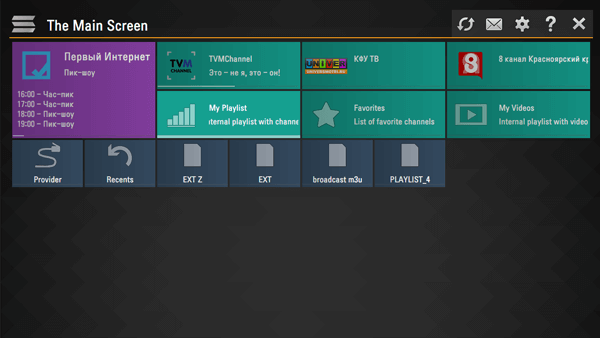 Related: Fluxus TV IPTV for Android, iOS, Apple TV & Kodi
Upload Playlist through Non-Permanent Access Code
#1: Go to SS IPTV settings and choose the General option.
#2: Next select the Get code option.
#3: Open the web browser and go to SS IPTV website.
#4: Then, enter the code in the appropriate field and then click Add Device option.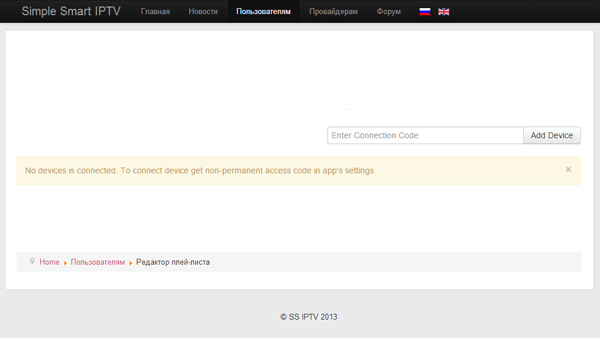 #5: Once the connection is made, click save to upload your Playlist.
#6: Finally, open the Simple Smart IPTV, the internal Playlist will be available under the My Playlist title.
To Conclude
SS IPTV is an absolutely free IPTV app that contains a number of content operators, streaming channels, social media contents and cloud streaming. In addition to this, you may add your playlist and access them over the internet. You can access all these beneficial features only by installing Simple Smart IPTV on your device. If you have any clarifications regarding the article, please comment below.